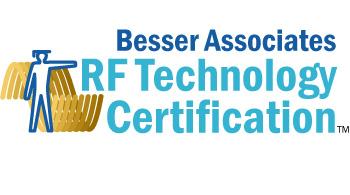 Description
This course is the first in a four-part series for RF production engineers, technicians and other professionals in the wireless field. It presents the key analytical tools necessary for working with RF technology, such as the dB scale, impedance matching with the Smith Chart, and S-parameters.
The material covered forms the foundation for follow-on courses dealing with specific RF and Microwave productivity skills and test/measurement.
The course consists of pre-recorded lectures followed by online exercise workbooks. Q&A forums are also available.

This course is intended for registered individual students only. Please contact us for group rates at info@besserassociates.com or 650-949-3300. Recording, copying, or re-transmission of classroom material is prohibited.
Learning objectives
Upon completing the course you will be able to:
work natively with dB values (without using a calculator)
understand basic wave parameters and propagation
appreciate the effects of parasitics on component behavior
understand the effects of mismatches at RF
create basic matching networks using the Smith Chart
describe basic transmission line structures and input impedance
interpret S-parameters from measurements and datasheets
Target Audience
This course is ideally suited for production engineers and technicians who are new to the RF/wireless field. It is also suitable for those who have been working in the field but who have not had a formal introduction to the key concepts that form the basis of understanding and troubleshooting wireless systems. The course is intended to improve your technical proficiency without delving into design-level details and methods.